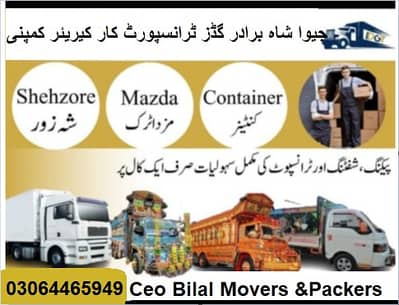 SHAH G Movers & Packers offers the complete moving services from providing boxes and moving accessories, helping to pack your goods, move your goods, store your goods, unpack and reassemble your goods and furniture. We are one the best and oldest companies in this field, working since 1995 and have been operating for more than 20 years. We providing quality and comfortable moving and home shifting services all over the Pakistan.
Why us:
– 24/7 services
– Trained labour
– Own fleet of trucks
– Afordable cost
– Trained electricians, plumbers and A/C technicians
– Friendly services
– 24/7 Support
– 100% Secure
-100% Safety
– Quick and Fast Delivery
We are available 24/7 to provide services to our customers.
We provide the following services to our customers.
– Home Shifting Services
– Office Shifting Services
– Packing Services
– Unpacking Services
– Loading and unloading Services
– Movers & Packers
– Goods Moving
– Employee Moving
– Warehouse
– Electrician
– Car Transportation
Customer satisfaction is our first priority.
We've all types of trucks and vehciles availble for moving and freight forwarding:
– 16 ft Mazda
– 18 ft Mazda
– 20 ft Mazda
– 20 ft Container
– 40 ft Container
– Hino
– Bedford
– Crane
– Lifter
Please feel free to contact me if you have any questions or concerns.
Ceo Mr Bilal
(View phone number)
0/3/0/6/4//4/6/5/9/4/9